HOW IT WORKS
Our Chocolate parties are a hands on, interactive experience, allowing children and adults to get creative and have fun with chocolate. Create your very own chocolate shapes to take home and enjoy, using the finest Belgian Chocolate and the highest quality ingredients.
We offer chocolate making fun for all ages, from our Classic Party making mobile phones, t-shirts and lollipops, to Build- A Bar where guests design and make their own chocolate bar from start to finish. For large groups or as an add on take a look at our Chocolate Pizza making package, and for older children and adults why not make your own Chocolate Truffles.
Our Chocolate Parties are mobile, we will travel to YOU! Or you can come to
The Party...
The fun filled experience begins with a demonstration from one of our chocolatiers who will demonstrate how to make and personalise chocolate shapes.
Then its your turn...
Guests get creative by piping detail, adding patterns and personalising their very own chocolate shapes.
Your guests will take home the chocolate they have made as well as memories that will last forever.
Pick your package, book your party, get creative and have an upbeat, fun filled Chocolate party to make that special occasion a unique and unforgettable experience.
Choose one of our many party packages. From Children's Parties, Adults Parties, Corporate and more.
All of our children's party packages include Party Bags. Certificates and a Birthday card.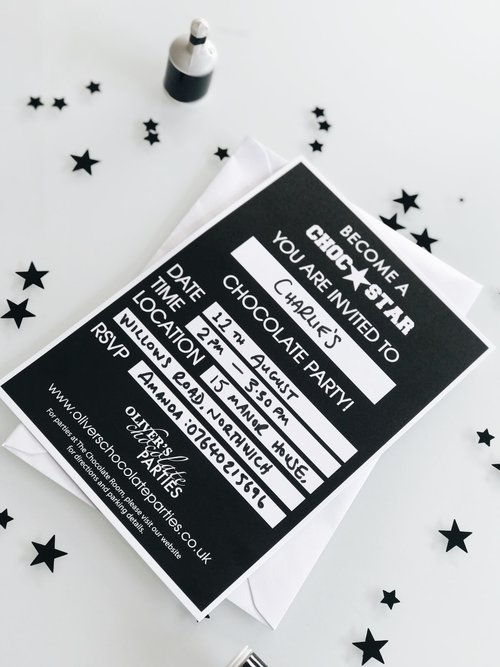 We have some extra special add ons to make it the perfect party. From invitations to decorations...

If you have any further questions then take a look at our FAQ'S where you should find an answer. If not please do not hesitate to get in touch. We are here to help!
The quickest way to book your party is by filling in our online booking form. This will go straight to our booking team who will be in touch within 48 hours with confirmation of your party.
Share your experience with us...
We love hearing from our customers, share your photos with us via social media, or leave us a review!